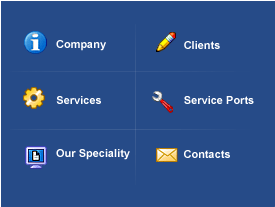 MERCURY MARINE SUPPLIERS

3rd Fllor, R.No.40/41, Tarvotti Bhavan,
203, P. D'Mello Road, Fort.
Mumbai - 400 038.
Tel : +91 22 22678791 / 22659421
Fax : +91 22 22623406
E-mail :
Contact@mercurymarinesuppliers.com
a
a
a
a
Welcome to
Mercury Marine Suppliers
Website

We have infrastructure, well trained staff, communications, transports facilities, access to stock of various manufacture's / stockists of shapers & ship repairers to provide varied services.

We are the member of "ISSA" (International Ship Suppliers Association) & have applied for ISO registration.

Our Specialty "Ship Spares"
Air Compressors

Ingersol - Rand

Air Conditioning & Refrigeration Machinery

Copeland

Sabro

Daikin

Bitzer

Purifier Spares etc......
Read More è