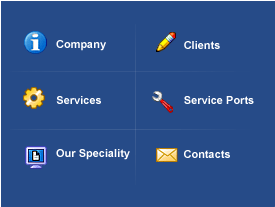 MADHAV SALIAN
Graduate
Twenty Eight Years Ship Supply Experience
N. T. HIRANI
Member Institute of
Marine Engineer
Ex. Ch. Engineer, Ex. Govt. Surveyor Ex. Tech. Manager.
Twenty Eight Years Ship Supply Experience
a
| | | |
| --- | --- | --- |
| a | a | a |
| | Company Profile | |
We started in 1989 as shiphandlers, marine offshore suppliers and service providers of ship-related activities.
We have adequate technical know-how & experience to satisfy our shipping clients.We have to our credit a long list of clients both national and international shipping companies.

We have the resources and expertise to provide our clients, complete and satisfactory services from deck, engine, saloon stores & spares, down to food and bonded items.
Our years of experience & expertise guarantees supply to all types of ocean-going vessels.

We have infrastructure, well trained staff, communications, transports facilities, access to stock of various manufactures stockists of spares & ship repairers.
We provide extended services through our network at all major ports in India. Infact we offer "single door" solution in ship supplies and services to shipowners of bulkers, tankers, gas carriers containers and supply vessels.

We are the member of "ISSA" (International Ship Suppliers Association) & have CRISIL MSE3* rating.
We are quality conscious & have the expertise and engineering skills for consultations and fabrications of various
spares.

Our Commitment

Our suppliers & services are one of the best in the industry. We believe in quality, prompt service & after sales service, Our technical staff is one of the best & our relationship with companies staff & ship staff is that of which we are proud of, Our services are not only in Mumbai, but also at all major ports in India.

Mercury Marine Suppliers often produces products and services for beyond the expected requirements of the
international marine business, Mercury Marine Suppliers is more than a supplier, Our aim being to provide assistance
to ship operator in every way, This includes offering consultancy, information, advice and guidance in all aspects
of stores, spares, repairs & marine service.